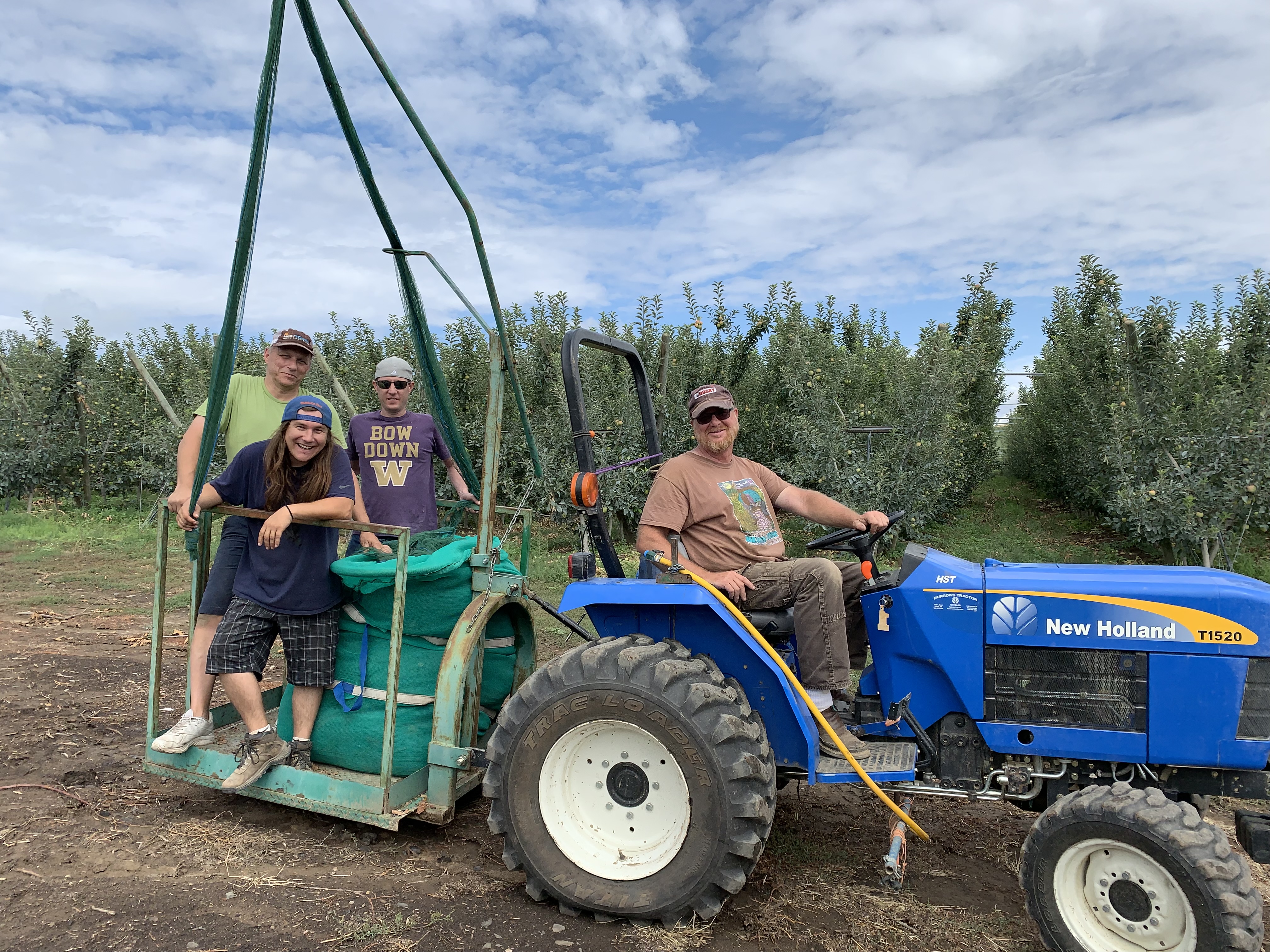 The grapes are getting ripe and juicy, so we have to protect our vines from the birds (who obviously have great taste in wines). Our intrepid crew includes winemaker Tony Haralson and co-owner Linda Haralson in addition to Bev Killion, Robert Frenzel, Erik Ramos and Chad VanCleave. It's getting exciting as we get closer and closer to Harvest!
Savor award-winning wines in our comfortable, casual and contemporary Tasting Room, while discovering the work of local artists in our Tasting Room Art Gallery.
Tasty Art, Wine, Food and Music - the action is at 14 N. Front Street!
Wine tastings are offered until 7pm. Thereafter wine will only be sold by the glass and by the bottle.
AntoLin Cellars is located on historic Front Street in downtown Yakima at the south end of the Northern Pacific Railroad Depot complex.
Come in and get your bearings for all that this fertile valley in Washington State has to offer while sipping on fine artisan wine from AntoLin Cellars award-winning winemaker, Tony Haralson.
2019 Seattle Wine Awards:
• 2015 AntoLin Cellars Estate Cabernet Sauvignon - Double Gold
• 2015 AntoLin Cellars Petite Sirah - Gold
2019 Cascadia International Wine Competition:
• 2015 AntoLin Cellars Petite Sirah - Double Gold
• 2015 AntoLin Cellars Estate Carménère - Gold
2018 San Francisco Chronicle Wine Competition:
•2012 AntoLin Cellars Estate Carmenère - Gold
The San Francisco Chronicle Wine Competition is the largest competition of American wines in the world.
In the 2016 Seattle Wine Awards, AntoLin Cellars won Best of Show / Double Gold for their:
AntoLin Cellars 2012 Riesling
AntoLin won two (2) Double Golds at the 2014 Seattle Wine Awards:
2011 AntoLin Cellars Chardonnay
2011 AntoLin Cellars Estate Riesling
Double Gold indicates: Best of the Best
The name "AntoLin" is a collective of the first names of winery owners Linda and Tony Haralson. Their passion is winemaking and their dream is to share the fruits of that passion.
Taste their Riesling, Viognier, Cabernet Sauvignon, Merlot, Syrah, Chardonnay, Carmenère and Malbec. Wine Tasting Fees are $4 for a white flight and $6 for a red flight. There are 4 whites and 5 reds in each flight.
AntoLin Cellars owns AntoLin Estate Vineyard in the Yakima Valley AVA which is planted to Riesling, Cabernet Sauvignon, Malbec and Carmenère.
Make it a point to taste great AntoLin Wines in downtown Yakima - Your jumping-off point for touring the rest of the Valley!
Hours:
Wed: 3-8
Thu: 3-8
Fri: 1-9
Sat: 12-7
Sun: 12-4
In the mean time, don't hesitate to call their Tasting Room for more information at 509-961-8370 or eMail to have them ship wine to your door.
"Here's to making friends, one glass at a time."
AntoLin Cellars
Tasting Room and the new Caboose Room (private event space)
14 N. Front Street
Yakima, WA 98901
(509) 961-8370
AntoLin@AntoLinCellars.com
www.AntoLinCellars.com
www.facebook.com/AntoLinCellars
www.instagram.com/antolincellars/
https://twitter.com/AntoLinCellars
http://www.pinterest.com/antolincellars/
© 2019, AntoLin Cellars ™ , Yakima, WA 98901
.
.
.
#WAwineMonth #DrinkYakima #YakimaValley #WAwine #Wine #Travel #winery #winetasting #yakimavalleywine #yakimavineyard #yakimawinery #Yakima #tastingroom #wawinery #WashingtonWine #yakimavalleyava #yakimatravel #instawine #winestagram #winesofinstagram #Winecountry #WineYakimaValley @AntoLinCellars