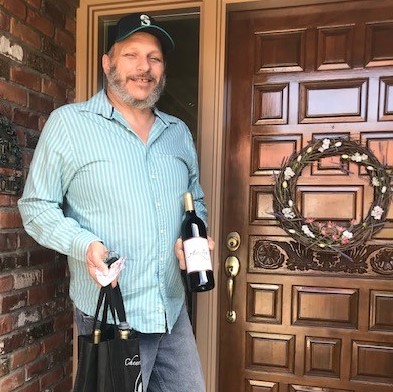 Since our wines provide a delicious way to help weather this Coronavirus (COVID-19) storm, we are featuring a 19% discount on all bottle/case sales.
Call 509 961-8370 to order wine for Local Wine Delivery 7 days a week.
Robert, our Tasting Room AmbassaDoor of Great Wine, delivers daily. Enjoy 19% discount on all bottles/cases. Call 509 961-8370 for Delivery 7 days a week until sundown for orders of 3 or more bottles within 15 miles.
Our Tasting Room is on 14 N. Front Street in historic downtown Yakima, Washington in the center of Washington Wine Country.
To help you stock up for your weekends our Tasting Room is open for Wine To Go on Thursdays thru Saturdays from 2-6pm:
You can call ahead for us to have your wine ready for you to Pick-Up or,
Enjoy Curbside Delivery from our Tasting Room at 14 N. Front St. in downtown Yakima
Stay Safe!
Linda & Tony Haralson
Owners
​​​​​​​